Fall 2006
HELLO
We're the Evans family from Illinois. The plan is that this site will replace our Evans Events newsletter that we once sent out quarterly, then semi annually, then annually, then occasionally. We began our newsletter in the Spring of 1992. It was handwritten with our own artwork to decorate. We graduated to a computer generated newsletter a few years later. In the past couple of years, however, I've not been very faithful to get it done. It had become quite an undertaking and rather expensive since we sent out around 100 copies...so I hope this will be a satisfactory substitute
It's been so long since I've done a newsletter that some of you may not even know about our precious little Adin Tymothy. He was born on October 17, 2005...just celebrated his first birthday. Adin means pleasant and is a very fitting name for him. He smiles at everyone and really is a very pleasant little boy.
Jaaron is almost three years old. He is getting to be a little more pleasant, but still pretty picky and grumpy at times. He was a very fussy newborn, then did well for a few months, but at around one and a half he just became so picky, crying when he doesn't get what he wants. When he gets in that mode, spanking doesn't really work...he just cries more, so we've resorted to putting him to bed and telling him to stay there until he's done crying. It doesn't take long and he's out of his room saying, "I'm done."
Matthew is our little charmer with his big, blue eyes and long black eyelashes (inherited from his paw-paw Evans.) Matthew is four and a half years old, looking forward to being "in school," and is everyone's buddy. He and Jaaron are great pals, playing together much of each day, but he's happy being with anyone in the family.
Levi is nearly 7 years old! He's counting the days until his birthday. He does very well in his school work, math being especially easy for him and he's reading better every day! I love the success of teaching a child to read! Levi is learning to play the piano, with Charity as his teacher, and loves to play for anyone who will listen. Levi is going to try his hand at Upward basketball this winter.
Our spunky little 8 year old, Elisabeth will turn 9 in March. She is becoming quite the actress. She enjoys entertaining us and is quite good at it. Elisabeth takes piano lessons from Karena.
Olivia is 11 years old. Olivia sings and plays the piano and is doing very well at both. She is a wonderful helper at home and is quite capable of caring for Adin, which she does often.
Josiah is now a teenager at 13 years old. He also plays the piano. He will also be playing UPWARD basketball at a church in Carbondale this winter.
Charity will be 16 in April. Unbelievable! She's quite musical, playing the piano very well and loves to sing. She has a beautiful voice.
Karena is 17 and will graduate this next spring, Lord willing. She's been working hard to get her high school requirements finished. Karena also plays the piano beautifully and also plays the flute.
Seth will be 20 the end of this month. He is currently in the army and stationed at Fort Bragg, NC (where he was born.) Though he doesn't really like the army much, he sure looks sharp in his uniform!
Jacob is 22, working at a factory in Chester, IL. He has a special someone in his life named Jenny that we all love........we'll keep this one updated!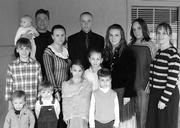 The Whole Family in One Spot!
It seems the past couple of years we are rarely all together for a photo. This was taken when we went to visit Seth during his training at Fort Leonardwood, MO.
Be sure to check out our photo page and blog. Just click on them (top of this page.)
And send us an email!
TRUE TREASURES (link on the left)